MISSOURI CITY'S MOST EXPERIENCED PRESSURE WASHING COMPANY
Locally Owned, Fully Insured and HUB Certified
Looking to get your home or business spick and span? Pressure washing may seem like a simple task, but there's more to it than meets the eye. At Pressure Washing America, LLC, we use the most up-to-date methods to ensure spotless results for both residential and commercial properties. So why settle for anything less than the best? Contact us today and let us show you what we can do!
At Pressure Washing America, LLC client satisfaction is our number one priority. That's why we always pay attention to even the smallest details.
Top-Quality Residential Power Washing Services in Missouri City, TX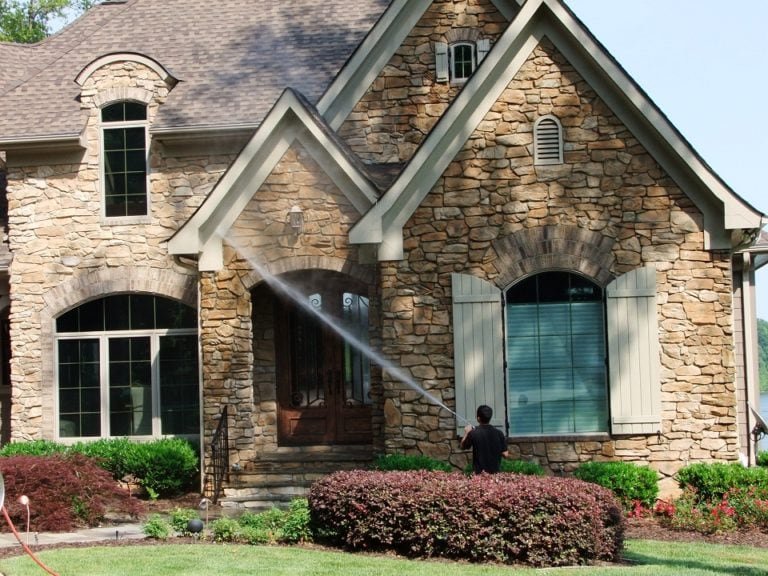 No matter how good your power washer is, cleaning your home is not a task for a weekend warrior. It requires a great deal of knowledge, time and skill to wash your house properly and without damaging your home.
That's why our residential cleaning services can be a much better solution for you. Our technicians are trained house washing specialists who can achieve a deep cleaning that lasts longer.
In Missouri City there are many different materials around most houses, and using the same method for cleaning all of them can prove to be a costly error.
Our technicians provide outstanding residential power washing service precisely because they know how to clean different types of materials like stucco or siding by using a soft washing technique. This way you don't have to worry your home will be damaged in the process and can enjoy the final results of our cleaning service.
If you're not careful, a pressure washer can easily damage a lot of things around your home. Stucco and siding can be easily damaged if you blast them with high pressure, and even softer bricks can crumble and flake.
Top Commercial Power Washing Services In Missouri City
A well-maintained building is one key to successful business. First impressions matter, and if your building looks run-down potential customers will take their business elsewhere. Keep your business premises looking its best with regular cleaning and repairs – it'll pay off in the long run!
There are countless benefits to keeping your business property clean – not just from an aesthetic standpoint, but from a health and safety perspective, too. A build-up of grime, dirt and mildew can create an unhealthy environment for both your employees and customers alike, so it's important to keep on top of your cleaning schedule.
Things like mold, algae, and bird droppings are more than just visibly unappealing – they can actually damage the building, weaken the structure and cause rot.
We offer a professional power washing service to clean commercial buildings in Missouri City. Our experienced team uses the latest equipment and techniques to restore your property to its original condition.
If you're looking for the best possible contractor for commercial property cleaning in Missouri City, you've come to the right place. We've been in the business for well over a decade, and we know how to get the job done quickly, safely, and effectively. Contact us today to learn more.
Exceptional Window Cleaning Services
Our window cleaning service is much more than just cleaning your windows – it's about making your property look its best. Whether it's your screens, blinds or windows, we'll make sure they're sparkling clean.
Our window-cleaning services are second to none – we'll make your windows gleam and get rid of any dirt, mold, and mildew lurking in the tracks and corners. Your home will be healthier and look its best.
Best Roof Cleaning Service in Missouri City
You may think that roof cleaning is unnecessary, but here are some of the benefits of our roof power washing service that will make you think again:
Curb Appeal: Having a sparkling home topped with a moldy roof is simply not a good look on any property. But with residential or commercial roof cleaning service, you can make give your home a true makeover- top to bottom.
Preventing Damages: Moss and mold tend to build upon your roof and over time they can cause peeling, water damage, cracks, and overall deterioration of your roof. Soft washing your roof prevents many costly repairs at a much smaller price while keeping the structure of your roof safe.
Hassle-Free: Climbing a steep roof to clean it is a treacherous task that is best left to professionals. Our cleaning specialists are highly trained in safely cleaning roofs, minimizing the risk of any accidents.
Lasting Results: On average your roof will remain mildew free for around 5 years and then slowly it will begin to develop mildew like it did around the same length of time after being installed.  Does anything else last 5 years these days?
Pressure Washing America, LLC Missouri City
Pressure Washing America, LLC Missouri City

We respond in minutes:
  Contact Us
4602 Riverstone Blvd
Missouri City, TX 77459
832-956-1941