Pressure Washing Services for Everyone's Needs
Whether you want to clean your home or a business building, our professional pressure washing crew is there to offer hassle-free exterior cleaning! With Pressure Washing America you will get:
Committed cleaning professionals- skilled, trained, and insured
Over 10 years of experience in pressure washing and cleaning techniques
Guaranteed 100% Satisfying Results
Pressure Washing Service in Waco, Texas!
Waco, Texas, is a beautiful place to call home, but with muggy summertime and windy winters, keeping a home, condo, or warehouse clean can be challenging.
Pressure Washing America in Waco is there to offer homeowners and business owners a smart exterior cleaning solution whenever their property needs instant beautification.
Top-Notch Residential Pressure Washing Service
Take Your Waco Home to The Next Level!
We can restore your home's appearance in no time with our Waco pressure washing and house soft washing services. By combining these cleaning methods, we can remove algae, mold, stains, and grime from your residential property.
As a result, we can combat the humid Waco weather, preserve your property, and boost your curb appeal instantly!
House Siding Soft Washing to Preserve Your Home
To Pressure Washing America your home is as important as it is to you. That's why we put our experience and skill to work and ensure no damages occur to your home during our pressure washing service.
The House Siding Soft Wash technique is designed to preserve gentler surfaces like your home's siding, ensure all grime and dirt are removed gently and restore the beauty of your property just as efficiently.
Our professional crew has all the pressure washing and soft washing skills needed to freshen up your home and make it the most beautiful house in the neighborhood.
They do a great job! They have pressure washed our entire house our driveway our deck around our pool. They do a great job moving everything out of the way, and they bleach the areas that need to be bleached and then wash with a great washer and put everything back. If you need some pressure washing done, these are your guys.
If you want to have a clean and healthy roof over your head, ask about our roof soft washing service, and you'll understand just how much Pressure Washing America in Waco TX can help you protect your home.
We can remove the mold and algae without harming your roofing and ensure your roof lasts at least a decade longer.
Our Waco roof soft washing service is the best way to restore the quality of your shingles, protect your family from allergens, and make your curb appeal soar.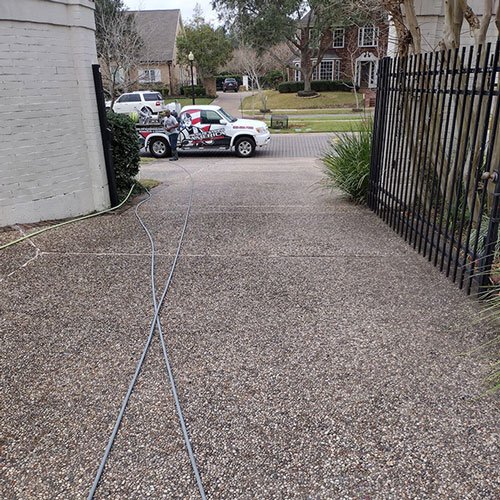 Your old driveway can be "as good as new" with the help of some professional pressure washing.
We use industrial power washing equipment and specialized solutions to remove anything kind of standing on your driveway- from chewing gums to motor oil stains.
With Pressure Washing America, your driveway will shine again, last longer, and prevent slip and fall accidents from happening.
Pressure Washing America makes your gutters work for you. With our gutter cleaning service, we can ensure your gutters are ready to channel the water away from your home and protect it during rainy days.
In addition, our professional cleaning crew can remove any clog in the gutters and help your gutters perform as they should again.
We Can Pressure Wash Any Surface to Perfection!
Pressure Washing America offers a variety of pressure washing services for Waco residents. Our pressure washing and soft wash methods can easily clean almost any exterior surface around your home
Patio and Deck Cleaning
We can pressure wash your concrete patio or soft wash a wood patio, taking great care not to damage your leisure area while making the area clean and healthy, ready to be enjoyed again.
Garage Cleaning
Our pressure washing technicians know how clean your garage, top to bottom in one go- and ensure you have a clean, bug-free, and stain-free storage area.
Parking Lot & Sidewalk Cleaning
We can pressure wash your concrete patio or soft wash a wood patio, taking great care not to damage your leisure area while making the area clean and healthy, ready to be enjoyed again.
Balcony Cleaning
No surface is too high for our cleaning crew. By pressure washing balconies, we can get rid of wasp nests, bugs, and many other insect-related stains on your home's siding.
Window Cleaning
We use a 5-stage water filtration for window washing services, ensuring only pure water is used when rinsing your windows. This will give your windows a crystal-clear shine without any mineral residue stains.
Waco, TX Commercial Pressure Washing Services….
….that will WOW your customers!
During the course of 10 years in the pressure washing industry, our professional cleaning crew's experience grew with every project. As a result, today, we can efficiently clean commercial properties of any size, and we can do it perfectly.
Our commercial pressure washing services are the best way to create a healthy environment and ensure Waco's schools and hospitals are sparkly clean.
In addition, we can pressure wash an office building or soft wash an apartment complex and achieve exceptional results regardless of the size of the property. And if you are a business owner, our commercial parking lot services will make your customers never want to leave!
Frequently asked questions (FAQ)
FAQs will be drop down menu
How often should I wash my house in Waco, Tx?
Waco has an interesting climate- continental, but with scorching summers, windy and dry winters, and plenty of cloudy days throughout the year.
However, the humidity during the weather combined with a slight breeze can result in a lot of dirt suddenly sticking to your home's siding.
Winter is also much muddier and rainier than cold, but that means more mud on and around your property.
To ensure your home is free of dirt and stains, but also algae spores and airborne bacteria, you should wash your home at least once per year.
What is the Best Time to Do Power Washing?
We can pressure wash your home anywhere between March and early November.
However, since temperatures rarely drop below 35 degrees, you can also schedule a house exterior pressure washing during the winter months.
This is the advantage of pressure washing in Waco- you can take care of the mold in winter and prepare your home for the summer when mold, mildew, and algae become a huge problem for all properties in Waco, TX.
Does Pressure Washing America Clean Brick Homes?
Yes! Brick may be expensive and susceptible to damage, but we won't pressure wash your brick home.
Instead, our house soft washing service is designed to clean surfaces that are a wee on the gentle and porous side.
This implies using a much lower pressure setting and mild cleaning solutions that will help us remove the grime from your home sidings gently.